You're looking through Google Images when you chance upon a familiar sight. What is this dish? It looks delicious, and you're not even that hungry. You know what it looks like, sure, but how do you pronounce it? Is there a story behind its name? Let's get to the bottom of the question: what is Shakshuka?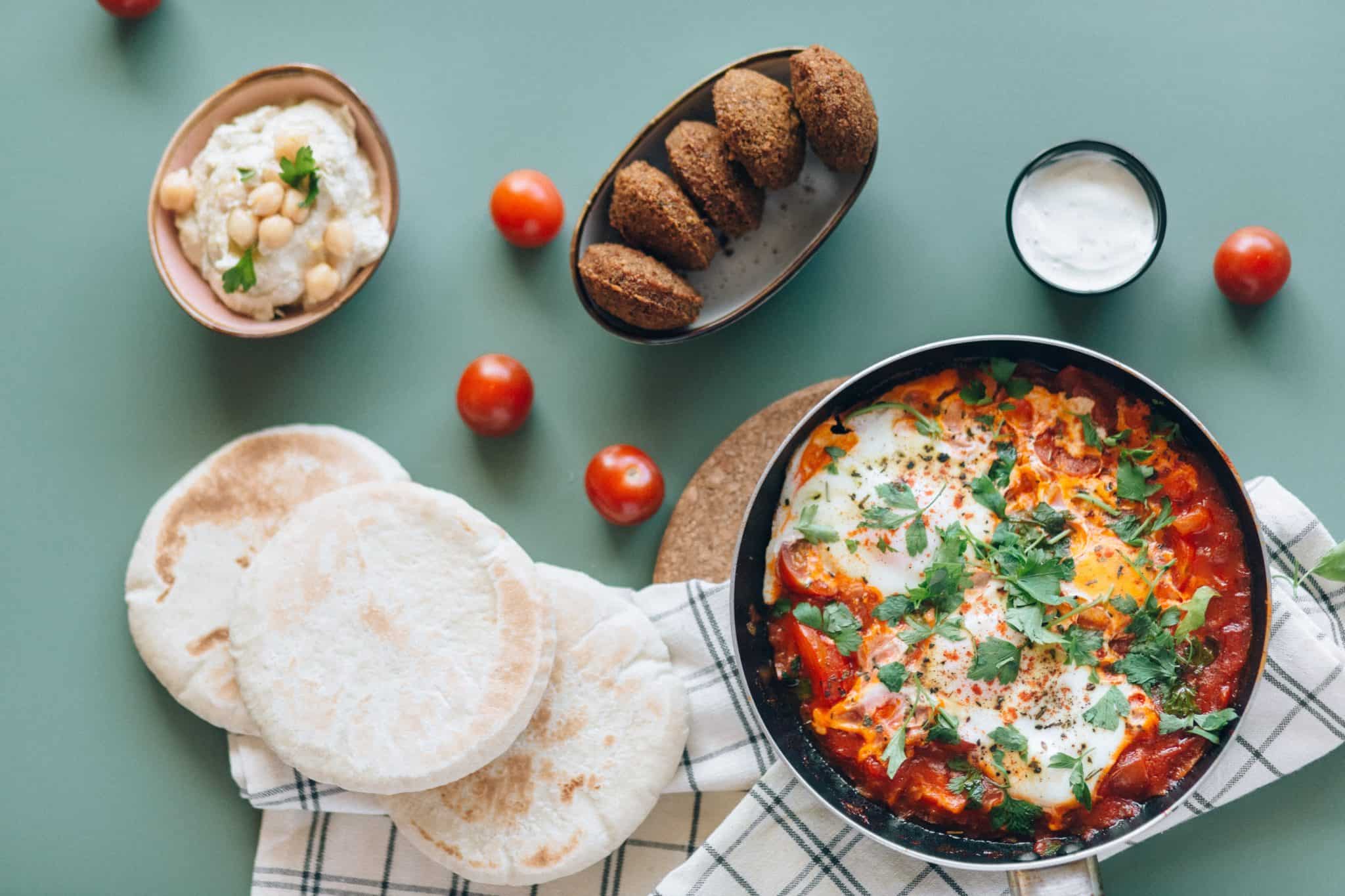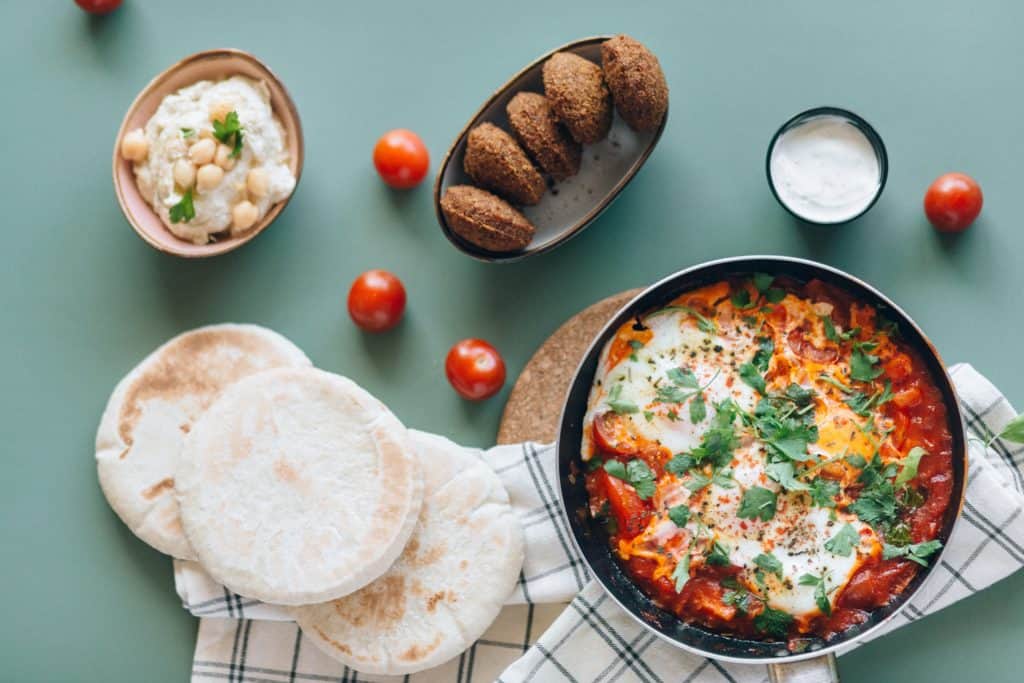 If you're looking for a fresh, flavorful dish to add to your repertoire of recipes, look no further. Shakshuka is a traditional North African dish that has gained popularity in recent years. Learn why it's become so popular and how to create the perfect shakshuka dish.
For all the food lovers out there, eating is one thing but it's more about experiencing new things. It's a whole different feeling. If you're looking for something new, my friends, this is the dish for you.
What makes this savory dish so different from others is the perfect combination of tomatoes with poached eggs in it and a hint of spiciness, it's just irresistible. So, what are you waiting for to invite your family and friends to a delicious meal full of love and affection? Make your holiday even more memorable by serving this spicy and filling meal.
What Is Shakshuka?
You'd best start with the pronunciation: Shake-shoe-kah.
It's a warmly spiced meal filled with luscious and vibrant veggies. The fun part is that it's super easy to cook in just under 30 minutes. A delightful wholesome meal that you can have at any time of the day. It consists of a perfect balance of veggies like tomatoes added with onions and peppers and spices & on top of it, the eggs poached, that is per your likings.
An all-rounder dish that is not only simple to prepare but also adaptable to your preferences; the variations are a must-try for this one.
Its Origin
Shakshuka, as alluring as it sounds, has its own story and origin. North African-style baked egg dish brimming with Middle Eastern spices.
If you've never heard of shakshuka, the first thing to know is that it's a traditional North African dish (Tunisia to be exact) that's popular in Israel – especially with sabras, aka Jews that have lived in Israel for generations. This tells us two things: Israelis like shakshuka, and if it's Israeli, there must be something good about it.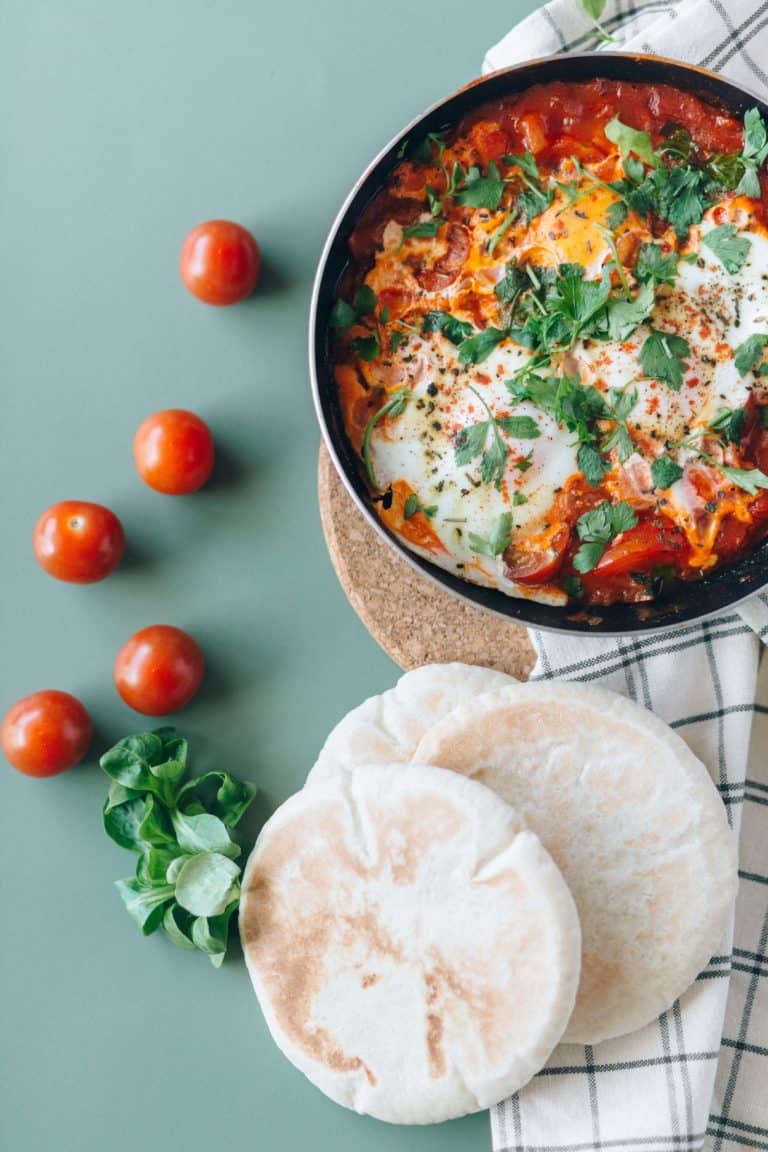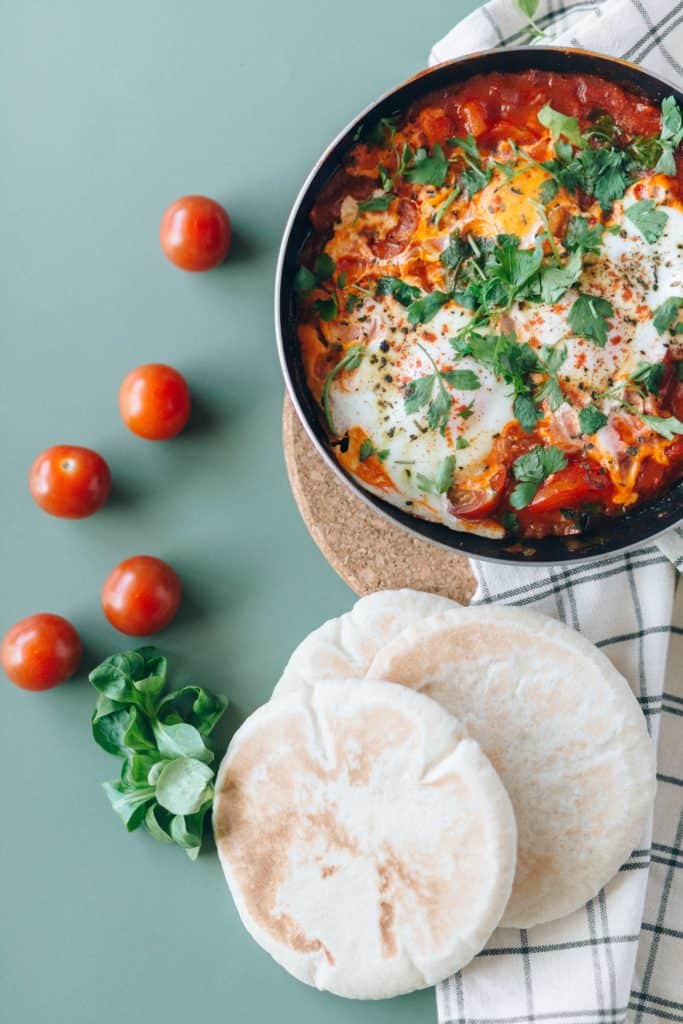 Why Is It Called Shakshuka?
In Etymology, the word shakshuka is a Maghrebi Arabic term for "a mixture". The exact provenance of the word is often contested, but, like the names of many Maghrebi dishes and terms is believed to come from the language of the Amazigh (or Berber) people indigenous to the region.
Can I Store Shakshuka in the fridge?
The answer is Yes! Shakshuka can be eaten hot, warm, or at room temperature, so it's great for make-ahead meals. Store it in an airtight container in the fridge for up to 3 days and reheat on the stovetop before serving.
If you'd like to freeze shakshuka, I recommend freezing the sauce alone (without the eggs). Thaw overnight in the fridge, then heat it up on the stovetop and add the eggs.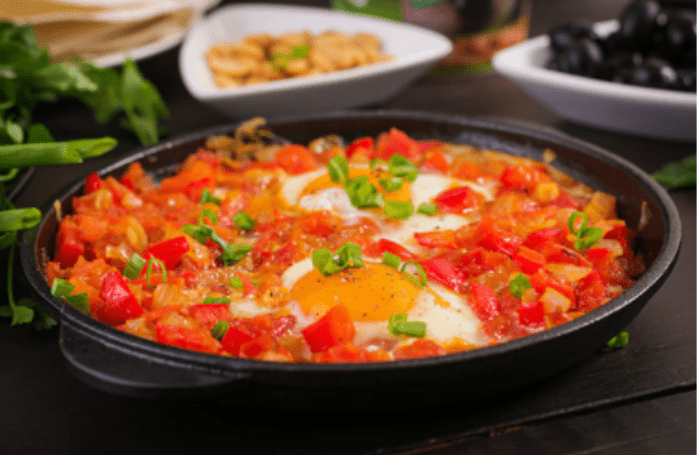 Sides have always been my favorite! What can I have with Shakshuka?
When I first started cooking and falling in love with it, my favorite meals were always sides. But as time went on and my culinary horizons expanded, I found myself gravitating toward dishes that were more unique.
This is the main reason why Shakshuka has become such a favorite of mine. It's a dish that you won't find at most restaurants, but it's also something that's extremely easy to make and versatile. You can even tweak the recipe to make it your own and eat it for breakfast, lunch or dinner!
It can be served for the first meal of the day with pita bread or some buttery naan. Can also be combined with any kind of salad such as cucumber salad, or Greek salad. And it is really easy to make it keto-friendly by replacing pita bread with some coconut bread or almond bread. Low carb Tortillas are another great option.
Another option is to serve the Shakshuka over rice or couscous. You can either serve the dish separately, placing the rice or couscous in a shallow bowl then topping it with the cooked Shakshuka, or cook it together for a one-pot meal.
You can also serve this egg dish with crunchy bread. It creates a perfect balance of spiciness and crispiness. It is one dish that you can never go wrong with. It is simple and easy to prepare. The combination of spices, combined with the delightful Tomato-Pepper stew topped with eggs, will have us wanting to recreate it over and over again.
What kind of meat goes well with shakshuka?
Lamb: While I wouldn't put lamb in the dish, it's a popular accompaniment. You can make shakshuka and serve it alongside grilled lamb chops or roast lamb.
Pork: Like lamb, pork pairs well with shakshuka but doesn't go in the dish itself. The hearty vegetables and spicy sauce are perfect for serving alongside roasted pork or crispy braised pork belly.
Sausage: Any type of sausage would be nice if you're looking for a meatier take on this dish. Chorizo is one of my favorite options because it has a big smoky flavor that stands up to the bold spices in this recipe.
Beef: I'm not sure I've ever seen beef used in shakshuka before, but if you want to try it, ground beef makes sense as a way to boost the protein content of the dish.
At its heart, shakshuka is a vegetarian dish with eggs as the main source of protein, so there are plenty of ways to make it vegetarian. If you want a full-on vegetarian version, use vegetable stock in place of chicken stock and simply skip any meat garnishes like sausage or ground beef. It will still be full of protein from all those eggs.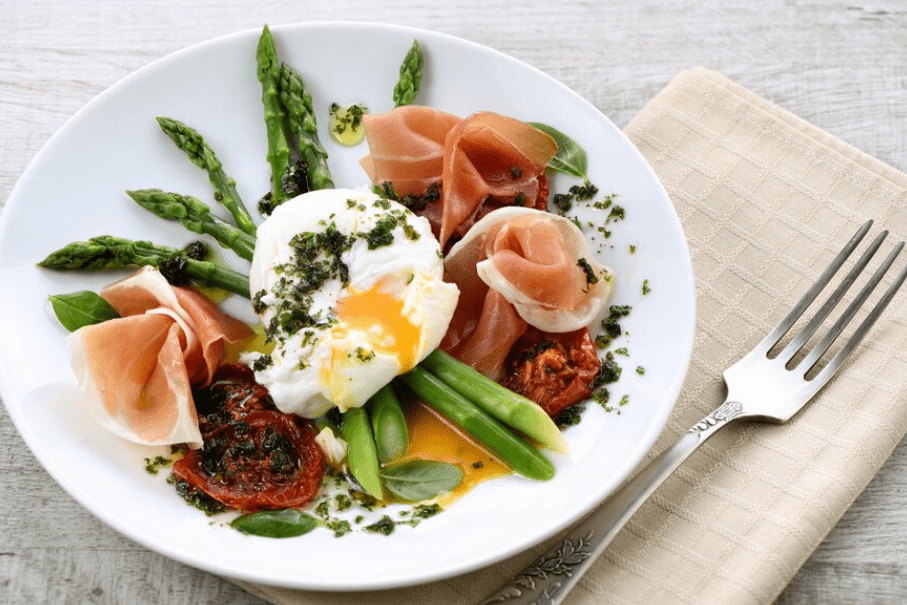 The Best Spices for Making Shakshuka
The spices are the key to making this dish delicious, so don't skip them. You can find spice blends for shakshuka at many grocery stores, online or you can make your own.
There's nothing quite like homemade blends, and it's easier than you might think to put together several batches of spice mixes in one go. I like to double or triple my recipes so I have plenty on hand to give as gifts throughout the holiday season. It also makes it easier to use these spices in other dishes if they're conveniently stored in your pantry.
As I said, you can always buy a premade spice blend for your shakshuka. But it's also easy and best to make your own. Heres' an easy way to make your own shakshuka spice blend at home.
1 tablespoon cumin seeds
1 tablespoon coriander seeds
1/2 teaspoon fennel seeds
1 teaspoon ground cardamom (or 4 crushed pods)
1/2 teaspoon ground turmeric
Toast the seeds in a dry pan over medium heat until they begin to pop and smell fragrant. Cool slightly and grind them in a spice grinder or clean coffee grinder. Combine with the remaining spices in an airtight container and store for up to three months.
Tips for the Recipe
If you prefer runny egg yolks, cook them for about 5 minutes over a medium flame, but if you like your eggs done, cook them for about 10 minutes.
You can also use the oven for cooking eggs before smashing them on top of the dish.
If you want to make your dish spicier, you can drizzle some chili powder, chili flakes or hot sauce while mixing the spices.
You can also add goat cheese to make the dish tastier as per your likings.
Recipe Variations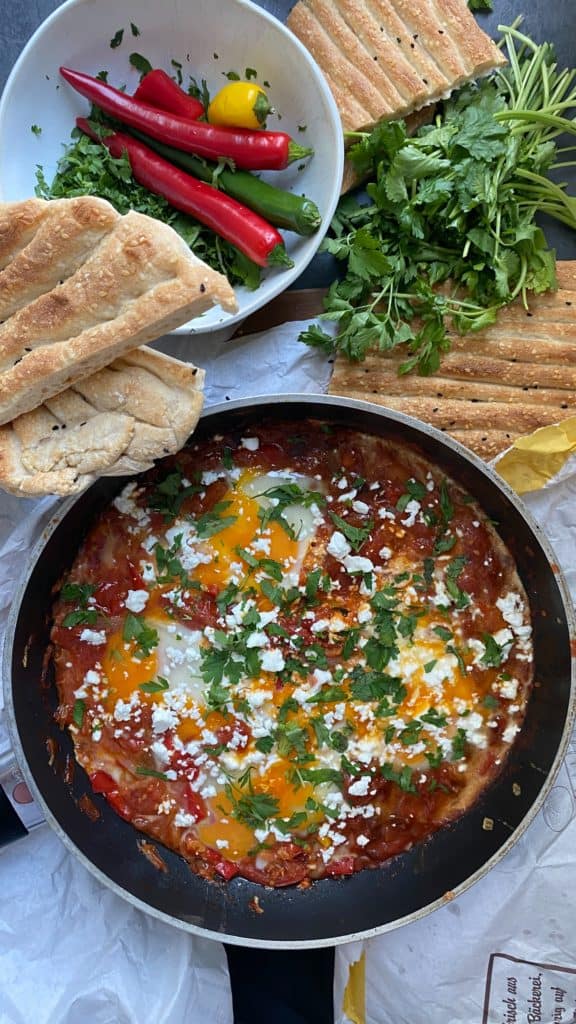 Spinach Shakshuka
Make green shakshuka instead of red. For the paste, combine green bell peppers, herbs, collard greens, and kale.
One of the healthiest variations of the poached eggs, just adds baby spinach with a dash of pepper and some cilantro as a side dish. This variation doesn't just provide a refreshing look but also some vital nutrients to the body.

Cheesy Shakshuka
Who doesn't like cheese? Cheese is satisfying as well as keeps the cravings at bay for a long time. For a cheesy experience, try adding grated mozzarella or feta cheese on top of hot Shakshuka. For an even more stimulating experience, add some, almonds, turkey, or ham!

Tomato soup and Shakshuka
You can also add poached eggs to your soup, soft eggs and soup is the best combination on a wintery night. Add a dash of pepper for healing your sore throat on a cold night.

Meat Shakshuka
Add meat to your shakshuka for a twist. Meat, from ground beef to shredded chicken, elevates an already delicious dish to new heights! Grilled chicken is another yummy and fulfilling side that can make Shakshuka the perfect family dinner recipe.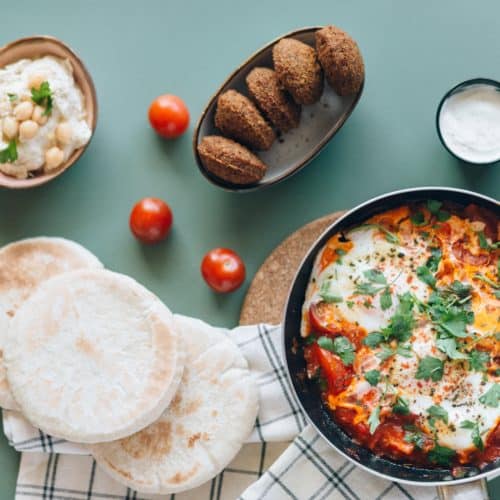 The Full Scoop on Shakshuka: North-African Poached Eggs
If you're looking for a fresh, flavorful dish to add to your repertoire of recipes, look no further. Shakshuka is a traditional North African dish that has gained popularity in recent years. Learn why it's become so popular and how to create the perfect shakshuka dish.
Ingredients
3

tbsp

Olive oil ( you can add more for drizzling)

1

pc

Medium Onion

thinly sliced

1

pc

Large Red Capscicum

finely sliced or diced

1

pc

Large Yellow Capsicum

finely sliced or diced

1

tsp

paprika

3

pcs

Roma tomatoes

peeled then sliced into tiny pieces plus juices

1

tsp

Chili powder

smoked

1/3

cup

white wine or vegetable stock

4

pcs

garlic cloves

coarsely chopped

1

tsp

cumin

1

tsp

Sugar

3/4

tsp

Salt

pinch

White Pepper

Freshly ground

handful

cilantro and parsely, or a mix

chopped

1/2

tsp

chili flakes

4-6

pcs

Organic Eggs
Instructions
Begin with the cooking part, grab a skillet and heat some olive oil over medium heat. Keep stirring till the onions soften, for about 5-6 minutes.

Add garlic and keep on stirring. Let it cook for about 30 seconds, till the garlic becomes tender and fragrant. Garlic has always been the main ingredient in all aromatic dishes. What can I say? It tastes so good and we always crave more!

Now you can add the sliced peppers and reduce the heat to low-medium flame. Simmer the mix well and wait for the peppers to cook until they are softened and visibly charred. It will take nearly 5-7 minutes.

Combine all of the spices, sugar, and salt and stir them. Then add paprika and cumin for the perfect seasoning.

Add the tomatoes and vegetable stock (or white wine) right away and mix them well. Reduce the flame to low for about 10 minutes to let the sauce reduce to get that rich and creamy consistency as per your liking.

Now, use a large spoon to form a well near the skillet's edge and crack the egg into it. Pour a small amount of sauce over the egg white's borders to partially submerge and confine it. Do it in such a way leaving the yolk exposed. Do it with all the remaining eggs.

Season eggs with a pinch of salt, ground pepper, and chilli flakes and simmer for 5 to 8 minutes, or till the whites are barely set and the yolks are still runny.

Remove from the skillet and sprinkle with parsely or coriander for the garnishing.

Your delicious Shakshuka is ready to be served. You can pair it with the crusty butter toasted bread, and enjoy the lip-smacking meal.
Nutrition
Calories:
250
kcal
Carbohydrates:
17.7
g
Protein:
12.1
g
Saturated Fat:
3.4
g
Cholesterol:
297
mg
Sodium:
553.9
mg
Potassium:
615.7
mg
Fiber:
3
g
Sugar:
10.5
g
Vitamin A:
1300
IU
Vitamin C:
45
mg
Calcium:
79.4
mg
Iron:
1.6
mg