These Keto Crispy Baked Garlic Parmesan Wings are not just any chicken wings; they are the perfect blend of crispy, savory, and downright delicious.
Imagine tender, juicy chicken wings coated in a golden, crispy, garlic-parmesan crust. Each bite is a symphony of flavors – the rich parmesan cheese, the subtle hint of garlic, and the satisfying crunch that will have you reaching for seconds (or thirds!).🤭
But what makes these garlic parmesan wings truly special is that they're keto-friendly. If you're following a low-carb lifestyle or simply looking for a guilt-free indulgence, you're in for a treat.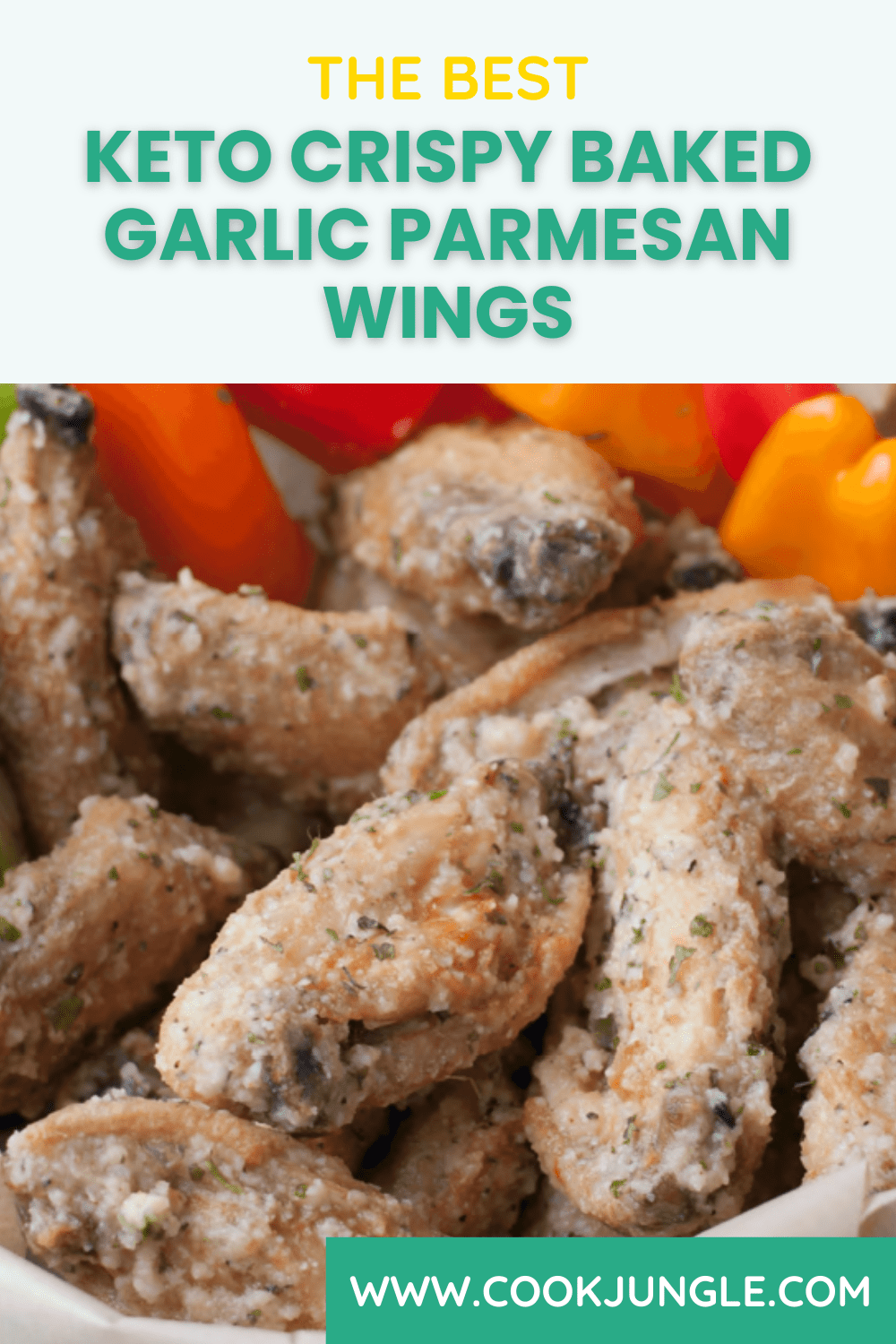 With every bite, you'll savor the fact that you can enjoy this indulgent snack without straying from your keto goals.
Table of Contents
Whether you're hosting a game-day party, having a family dinner, or just treating yourself, our Keto Crispy Baked Garlic Parmesan Wings will steal the show.
This simple yet flavorful chicken wings recipe is sure to become a family favorite.
So, let's dive into the step-by-step guide and create a dish that's not just food but a whole experience.
Why You'll Love This Keto Crispy Baked Garlic Parmesan Wings Recipe:
Flavor Explosion: These chicken wings are a taste sensation. The crispy exterior is a delightful canvas for the irresistible combination of garlic and Parmesan, creating an explosion of flavor with every bite.
Tender Succulence: Underneath that crispy goodness lies tender and succulent perfectly cooked meat. The contrast between the crispy coating and juicy interior is a culinary marvel that will keep you coming back for more.
Keto-Friendly: If you're following a keto lifestyle, these wings are your indulgent go-to. They allow you to satisfy your cravings without any guilt, as they are low in carbs and high in flavor.
Perfect for Any Occasion: Whether it's a game day, a family dinner, or just a snack for yourself, these wings are versatile and suitable for any occasion.
Easy to Make: The recipe is straightforward and easy to follow, so you can whip up these delectable wings with ease.
Are the Keto Crispy Baked Garlic Parmesan Wings Keto Friendly?
Absolutely! These wings are a keto-friendly delight. With minimal carbohydrates and high protein content, they are the perfect addition to your low-carb repertoire.
The crispy coating is achieved without deep frying, making them a healthier alternative to traditional wings. You can enjoy the flavors while staying true to your keto goals.
Why We Are Going with the Specific Ingredients
Let's break down the magic behind the ingredients that make our Keto Crispy Baked Garlic Parmesan Wings truly special.
Chicken Wings: We kick things off with 2 pounds (about 900g) of chicken wings, the heart, and soul of our dish. These wings aren't just tasty; they bring a solid protein punch to the party.
Sea Salt: Sprinkled over the wings, a teaspoon of sea salt enhances their natural flavors, ensuring a well-seasoned and downright delicious experience.
Baking Powder: Now, here's the secret weapon. Adding 2 tablespoons of baking powder might seem a bit unexpected, but it's the key to that irresistible crispy texture. As they bake, the baking powder works its magic, creating a light and airy coating that turns golden brown and oh-so-crunchy.
Salted Butter: Melted goodness alert! Half a cup of melted salted butter brings richness and a velvety touch to the wings. It acts like glue, making sure the flavorful coating sticks to each piece, guaranteeing an explosion of taste in every bite.
Grated Parmesan Cheese: Parmesan cheese, a flavor powerhouse, takes these wings to new heights. The nutty and sharp flavors of Parmesan create a mouthwatering crust that perfectly complements the garlic, adding an extra layer of deliciousness.
Minced Garlic: One clove of minced garlic infuses the wings with that unmistakable aroma and zesty taste of fresh garlic. It's all about bringing bold flavors without the need for a passport to Italy.
Chopped Fresh Flat-leaf Parsley: A tablespoon of fresh flat-leaf parsley not only adds a pop of vibrant green but also a subtle herbal note. It's the secret touch that balances the richness of the other ingredients, making you feel like you're strolling through a flavor-filled garden.
Garlic Powder: To intensify the garlic goodness, we throw in a teaspoon and a half of garlic powder. This adds depth and complexity, ensuring the wings are packed with a robust garlic profile.
Onion Powder: Finally, half a teaspoon of onion powder enhances the savory notes, completing the symphony of flavors.
Together, these ingredients create a culinary masterpiece that will have you reaching for seconds.
How to Make Keto Crispy Baked Garlic Parmesan Wings
Follow these simple steps to create delicious Keto Crispy Baked Garlic Parmesan Wings.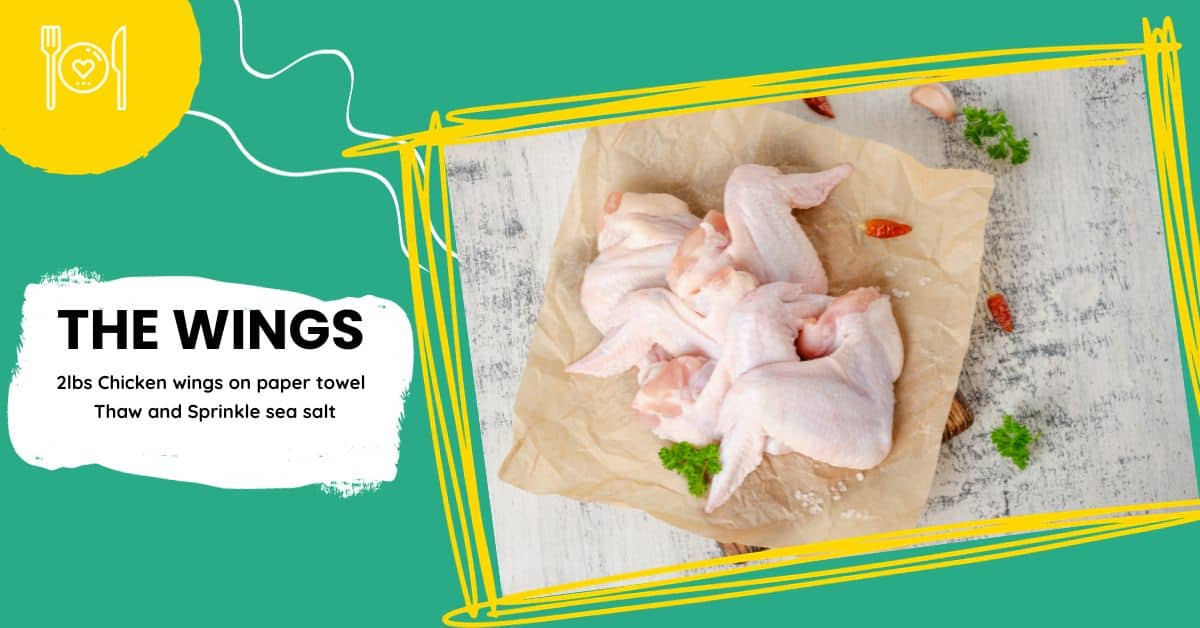 1. Prep the Wings:
Take 2 pounds of chicken wings (make sure they're thawed).
Lay them out on paper towels and sprinkle with sea salt.
Cover with more paper towels and let them rest for 20 minutes to enhance the flavor.
2. Make the Dressing:
In a bowl, mix melted salted butter, grated Parmesan cheese, minced garlic, chopped fresh parsley, garlic powder, onion powder, and black pepper until smooth. This flavorful dressing is the heart of the dish.
3. Bring It Together:
Preheat your oven to 250°F and set racks in the middle-lower and middle-upper positions.
Place a cooling rack on a baking sheet for your wings to crisp up.
Transfer the resting wings to a bag, add baking powder, and shake to coat evenly.
Spread wings on the cooling rack on the baking sheet.
Bake at 250°F for 30 minutes to start the crispy process.
4. Crispy Destination:
Increase the oven temperature to 425°F.
Move the baking sheet to the middle-upper rack.
Bake for an additional 45 minutes until golden brown and crispy.
5. Enjoy the Aroma:
As the wings bake, savor the tantalizing aroma filling your kitchen.
Anticipation grows for the delightful experience ahead.
6. Final Touch:
Let the wings rest for 5 minutes after baking.
Toss them in the prepared Parmesan and garlic dressing for a luscious coating.
Take a bite and enjoy the extraordinary taste experience, no passport is required.
This simple process ensures you'll create crispy, flavorful wings that are downright delicious!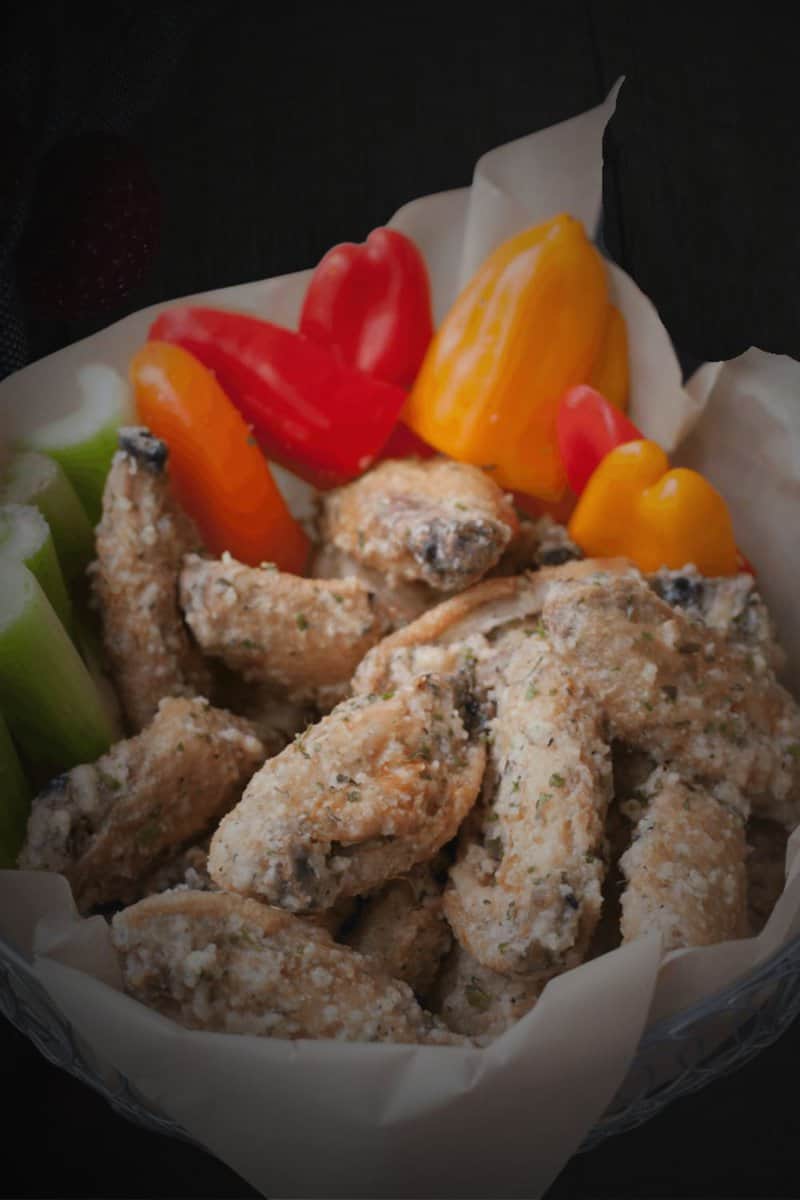 Cooking Equipment for Keto Crispy Baked Garlic Parmesan Wings
Here are four recommended items that will help you achieve the best results for these keto-crispy chicken wings:
Rimmed Baking Sheet: A sturdy rimmed baking sheet is a must-have for baking the Keto Crispy Baked Garlic Parmesan Wings to perfection. It provides a flat and even surface for the wings to cook evenly and allows for easy cleanup.
Cooling Rack: A cooling rack is essential for achieving optimal crispiness. Placing the wings on a cooling rack set on the baking sheet elevates them, allowing hot air to circulate and crisp up the skin from all angles.
Resalable Plastic Bag: A resealable plastic bag comes in handy for coating the wings with baking powder. It allows for easy shaking and ensures that each wing is evenly coated, resulting in a uniformly crispy texture.
Medium Bowl: A medium-sized bowl is perfect for preparing the Parmesan and garlic dressing. It provides ample space for blending the ingredients together until a smooth and creamy consistency is achieved.
By having these essential cooking tools at your disposal, you'll be well-equipped to create the most delicious and Crispy Baked Chicken Wings.
Recipe Variations for Keto Crispy Baked Garlic Parmesan Wings
While the classic recipe for Keto Crispy Baked Garlic Parmesan Wings is undeniably delicious, there are several variations you can explore to add your own personal touch.
Here are a few ideas to inspire your creativity:
Spicy Kick: For those who enjoy a bit of heat, add a pinch of cayenne pepper or a few dashes of hot sauce to the Parmesan and garlic dressing. This will give your wings a fiery kick that pairs perfectly with the savory flavors.
Herb Infusion: Experiment with different herbs to infuse your wings with aromatic goodness. Consider adding dried oregano, basil, or thyme to the Parmesan and garlic dressing. These herbs will elevate the flavor profile and add a touch of Mediterranean flair.
Lemon Zest: To brighten up the flavors, try incorporating some freshly grated lemon zest into the dressing. The citrusy notes will provide a refreshing twist and complement the richness of the Parmesan and garlic.
Quick Tip: Feel free to get creative and tailor this baked chicken wings recipe to suit your taste preferences. The beauty of cooking is that it allows for endless experimentation and personalization.
Serving Suggestions
Keto Crispy Baked Garlic Parmesan Wings are incredibly versatile and can be served in various ways. Here are some serving suggestions to inspire you:
Appetizer Delight: Serve these crispy chicken wings as an appetizer at your next gathering. Arrange them on a platter with a side of marinara sauce or creamy ranch dressing for dipping. Garnish with fresh parsley or grated Parmesan cheese for an added touch of elegance.
Main Course: Make a meal out of these wings by pairing them with a vibrant side salad or some roasted vegetables. The combination of the crispy wings and the fresh, colorful accompaniments creates a well-rounded and satisfying dish.
Game Day Favorite: These wings are a perfect addition to your game day spread. Set up a wing bar with different dipping sauces and toppings, allowing your guests to customize their wings to their liking. Don't forget the celery sticks and blue cheese dressing for the classic buffalo wing experience.
No matter how you choose to serve them, Keto Crispy Baked Garlic Parmesan Wings are sure to be a crowd-pleaser and the star of any meal or gathering.
Storage and Reheating Tips
If you happen to have any leftover wings, you'll be pleased to know that they can be stored and enjoyed later. Follow these simple storage and reheating tips to ensure they retain their crispy texture and delicious flavor:
Refrigeration: Allow the chicken wings to cool completely before transferring them to an airtight container or resealable bag. Place them in the refrigerator and consume within 2-3 days.
Reheating in the Oven: To reheat the wings and restore their crispy texture, preheat your oven to 375°F (190°C). Place the wings on a baking sheet lined with parchment paper and bake for about 10-15 minutes, or until they are heated through and the skin becomes crispy again.
Reheating in an Air Fryer: If you have an air fryer, it's an excellent option for reheating the wings. Preheat the air fryer to 400°F (200°C) and place the wings in a single layer in the basket. Reheat for approximately 5-7 minutes, or until they are heated through and crispy.
Remember to monitor the reheating process closely to prevent the wings from becoming overcooked. Once reheated, serve them immediately to enjoy their delicious flavor and crispy texture.
FAQs about Keto Crispy Baked Garlic Parmesan Wings
1: Are these wings suitable for a keto diet?
Yes, they are! The recipe is low in carbohydrates and high in fat and protein, making it a great option for those following a keto lifestyle.
2: Can I use boneless chicken for this recipe?
Absolutely! While the recipe calls for chicken wings, you can adapt it to boneless chicken thighs or chicken breast tenders. Adjust the cooking time accordingly to ensure they are cooked through.
3: Can I make the wings ahead of time and freeze them?
While it's possible to freeze the wings, it may affect their texture. The crispy coating might become less crisp after thawing and reheating. It's best to enjoy them fresh for the optimal experience.
4: Can I substitute the Parmesan cheese with a different cheese?
Certainly! While Parmesan cheese adds a distinct flavor, you can experiment with other hard cheeses like Pecorino Romano or aged cheddar for a different taste profile.
5: Are there any gluten-free alternatives to baking powder?
Yes, gluten-free baking powders are available in stores that can be used as a substitute. Be sure to check the labels and choose a gluten-free option if needed.
I hope these FAQs address some of your concerns and provide you with the information you need to enjoy your Keto Crispy Baked Garlic Parmesan Wings to the fullest.
More Keto Chicken Recipes to Try!
Crispy Baked Garlic Parmesan Wings Recipe (Keto-friendly)
Craving a crispy treat? Try our Crispy Baked Garlic Parmesan Wings! Perfectly seasoned, keto-friendly, and easy to make, they're a flavor explosion in every bite.
Ingredients
900

g

Chicken Wings

thawed if frozen

1

tsp

Sea Salt

2

tbsp

Baking Powder

1/2

cup

Salted Butter

melted

1/2

cup

Parmesan Cheese

grated

1

clove

Garlic

minced

1

tbsp

Flat-leaf Parsley

chopped

1 1/2

tsp

Garlic Powder

1/2

tsp

Onion Powder

1/4

tsp

Black Pepper

freshly ground
Instructions
Spread the wings in a single layer across some paper towels and sprinkle with the salt. Cover with another layer of paper towels and let rest for 20 minutes.

900 g Chicken Wings,

1 tsp Sea Salt

Place an oven rack in the middle-lower position and another rack in the middle upper position. Preheat the oven to 250°F. Set a cooling rack on a rimmed baking sheet.

Combine the wings and baking powder in a resalable plastic bag. Shake to coat the wings evenly.

Spread the wings in a single layer across the cooling rack. Bake on the middle-lower oven rack for 30 minutes.

Increase the oven temperature to 425°F and move the baking sheet to the middle-upper rack. Bake the wings for an additional 45 minutes, or until the skin is nice and crispy.

While the wings are baking, make the sauce: Combine the melted butter, Parmesan cheese, minced garlic, parsley, garlic powder, onion powder, and pepper in a medium bowl.

1/2 cup Salted Butter,

1/2 cup Parmesan Cheese,

1 clove Garlic,

1 tbsp Flat-leaf Parsley,

1 1/2 tsp Garlic Powder,

1/2 tsp Onion Powder,

1/4 tsp Black Pepper

Remove the wings from the oven and let rest for 5 minutes. Toss in the sauce before serving.
Nutrition
Serving:
187
g
Calories:
370
kcal
Carbohydrates:
4.51
g
Protein:
35.96
g
Fat:
23.05
g
Saturated Fat:
12.428
g
Polyunsaturated Fat:
1.912
g
Monounsaturated Fat:
5.86
g
Trans Fat:
0.799
g
Cholesterol:
134
mg
Sodium:
788
mg
Potassium:
836
mg
Fiber:
0.6
g
Sugar:
0.06
g
Vitamin A:
697
IU
Vitamin C:
2.9
mg
Calcium:
316
mg
Iron:
1.9
mg